California is amazing. I haven't shared much about being back yet, that'll come soon. As much as I love this place, I am missing my guy...So I'm going to try catching up on this awesome link-up by Mal Smiles, which includes a few questions to ask the guys who are behind the blog. I love this so much because it usually leads to a lot of laughing and funny conversation. Thanks to
my studly hubby for being enthusiastic to participate :)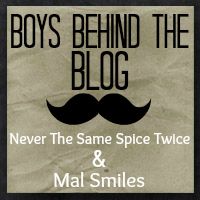 1. What would you do with $1,000,000?
I would keep 100,000 and burn the rest. Or recycle it.
2. What is your dream job?
To work in cinema as director of photography.
3. Who is your celebrity crush?
Shirley Manson, singer of Garbage.
4. What is your favorite sports team?
Boxing isn't played on teams. So my favorite person is Oscar Buenaventa, who's an Argentinian boxer.
5. What was your AOL/AIM screen name back in the day?