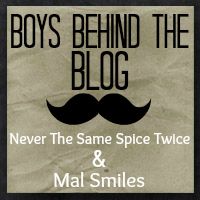 Hey all! Do you know that feeling when a new season hits all of a sudden? That was today, here in Lima. Literally it's been foggy and no sun for the last 3 1/2 months I've been here and then...bam! Today is SPRING! Full out - sun, blue skies, and light-sweater-at-night weather. I couldn't be more happy to see something other than grey! There are studies about the weather's affect on peoples' or a region's feelings and I definitely see that it's true (for me at least). Having just a bit of sun and being able to see the moon at night, I feel refreshed and more focused. Just the inspiration I needed!
Now...onto this really fun link-up with Mal and Stephanie. Boys Behind the Blog is about sharing a bit about the boy in our lives with some selected questions. I was excited to hear his answers too, because he always surprises me (#1 and #2 I wouldn't have known). So here are what my hubby - Rafael - says.
1. What celebrity would play you in a movie about your life?
Marty McFly to be able to travel to the past or future.
2. What is your dream car?
A van, like the A-Team.
3. Do you have any tattoos? What, where, why?
I have a few tattoos. Let's see...8. My latest tattoo is based on the movie "The Bicycle Thief" because it's one of the movie's that inspires me to keep going, even when things are bad.
4. Boxers or briefs?
I prefer boxers.
5. List 3 random facts about yourself...
- I have 3 nipples.
- One day I am going to go to Japan.
- I've been to the South Pole.
Love this guy :) Thanks for stopping by and h
ave a great rest of your week!